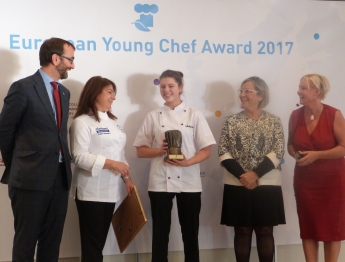 Las instalaciones del Hotel-Escuela de Sant Pol de Mar han acogido la final de la segunda edición del concurso European Young Chef Award 2017, organizado y patrocinado por IGCAT (Instituto Internacional de Gastronomía, Cultura, Artes y Turismo) y promovido por la Plataforma de la Región Europa de Gastronomía juntamente con EUHT StPOL.
El evento, cuyo embajador es Joan Roca (3 estrellas Michelin y Mejor Cocinero del Mundo 2013 y 2015) se ha realizado con el objetivo de fortalecer los vínculos entre las Regiones Europeas, a través de jóvenes chefs internacionales donde se promociona la innovación culinaria, la tradición gastronómica y los productos locales.
Uno de los momentos más importantes del concurso ha tenido lugar durante la mañana, cuando los ocho finalistas de la competición han elaborado y presentado los platos ante el Jurado. El objetivo, innovar en la elaboración de recetas tradicionales de cada región.
Este año, el Jurado ha estado formado por Rosa Mayordomo, Board Member of Acadèmia Catalana de Gastronomia i Nutrició, Carlos Fernandes del Polytechnic Institute of Viana do Castelo, Cáit Noone del Galway-Mayo Institute of Technology, Ilona Sares Directora de ProAgria North Savo. Argiro Barbarigou Chef del Papadakis Restaurant y Lluís Serra, Executive Director de EUHT StPOL.
La concursante de la región de Galway (Irlanda), Aisling Rock, se ha proclamado ganadora absoluta del certamen European Young Chef Award 2017 con el plato "Mackerel, Pickle, Sheep Yoghurt".
Los protagonistas de la competición han sido 8 jóvenes cocineros todos ellos de entre 18 y 28 años, procedentes de las regiones que participan en la Plataforma de las Regiones Gastronómicas Europeas. Estos son los platos con los que han participado:
Aisling Rock – Galway
Tradicional: Salted Mackerel with Root Vegetables and Potatoes
Innovación: Mackerel, Pickle, Sheep Yoghurt
Alin Barabancea – Sibiu
Tradicional: Sheep stew with vegetables
Innovación: Sheep ballotin on vegetable flan and acidified onion sauce
Bon Sawatdee – North Braban
Tradicional: Balkenbrij
Innovación: Balkenbrij with local crayfish from waters in Brabant and an Asian twist
Davide Fiammenghi -East Lombardy
Tradicional: Bolied salami with lentils and cornbread
Innovación: Cotechino cube on egg flip and shrimp with lentils cream
Josi Polso – Kuopio
Tradicional: Mustikkakukko – Blueberry pie
Innovación: Blueberry Pie gone to forest
Pau Gabarró – Catalonia
Tradicional: Sous vide rabbit loin with chestnuts, boletus and cod gut
Innovación: Roast rabbit loin with autumn flavours
Filip Matjaž – Slovenia
Tradicional: Istrian Brodet
Innovación: Taste of the Slovenian sea
Spiros Kougios – South Aegean
Tradicional: Spinialo
Innovación: Secrets of the Aegean Sea
La jornada ha acabado con un almuerzo de celebración en el que los miembros del jurado, los participantes y la organización del concurso han podido valorar la experiencia.
Comunicado de prensa La final del Concurso European Young Chef Award 2017 ya tiene ganador publicado en comunicae.es